VENTS - 1200W Duct Heater with 150mm Built-in Thermostat
Estimated Shipping Widget will be displayed here! (with custom color)
---
Vents Duct Heater Features
This 1200W duct heater for 150mm diameter air duct is equipped with an internal sensor and a manual thermostat. It is designed to heat the fresh air drawn into round ventilation ducts. This is an add-on device that is not intended for off-duct use.
It consists of a galvanized steel frame on which is rigidly fixed the junction box whose cover is removable. On the junction box, there is also the manual thermostat adjustable up to 40°C. The inputs located outside the junction box allow the connection cables to be taken out for their grounding. Inside the chassis is the tubular electrical heating element (coil).
This coil heater is rated for a minimum airflow velocity of 1.5m/s. The Ventilation Systems manufacturer designs the use of an inlet air filter to protect the heating element from air impurities.
The manual thermal circuit breaker is equipped with a manual reset button (inside it next to the Reset label). On one of the interior sides is the electrical diagram of this heater. IP40

This heating device which has connection outputs 150mm is designed to be installed inside air ducts in a horizontal or vertical position. In the horizontal position, the junction box must imperatively face upwards. The horizontal deviation can be up to 90°.
Info: The duct heating must be switched off when the ventilation system is not running.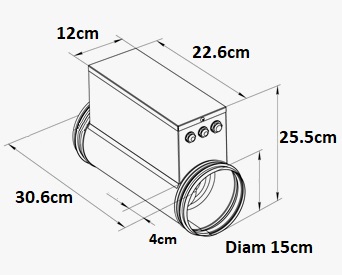 Diameter: 150mm
Power: 1200W
Weight: 1.86kg
Tension: 230 V
Current: 5.2A
Frequency: 50 Hz
Minimum flow rate: 120m3/h
VENTS - 1200W Duct Heater with 150mm Built-in Thermostat
Sale price

$168.00
Regular price
Choose options
Estimated Shipping Widget will be displayed here! (with custom color)
---
View details